Do you want to sell your Los Angeles home? Are you wondering if professional staging is a worthwhile investment? A professionally staged home tends to spend
73% less time
on the market than a home without any staging. In addition, you can expect to sell for
25% more
– if the staging has been done right. Read on to find out The Rich Group's best tips and tricks on staging your home to sell!
1. Declutter and depersonalize

The essential thing to remember about any staged home is that home buyers need to be able to visualize their future lives in your home. The way to do that is by decluttering! If you have a garage, drawer, or closet piled high with stuff, you need to start packing and sorting. Consider donating, selling, or throwing away items you no longer need. You can then pack up the rest of your items and put them into a storage unit, a friend or family member's house, or your new home.
Things that you should consider moving out of your house as soon as possible would be extra clothes, shoes, books, and small kitchen appliances. You are not removing everything, but just enough so that your staged home looks like a home that any home buyer can imagine as theirs. It needs to feel homely and comforting without the personal effects. Therefore, get rid of toothbrushes, family pictures, pet accessories, and certificates. Remove your personal items to create a space that any home buyer in the Los Angeles area will love!
2. Clean
The next step to any professionally staged home is to clean it! You need to do a comprehensive and deep cleaning of your home to remove even the most stubborn dirt lodged between the crevices and cracks. Consider going from room to room and then top to bottom in your cleaning endeavor. Dust the ceiling fans, walls, bookcases, and entertainment centers. Be sure to wipe down all home surfaces, such as kitchen counters, coffee tables, dining room tables, and bathroom counters. In addition, wash the windows, scrub the floor, and vacuum the carpet. You could also consider hiring a professional cleaning company with the manpower and experience to clean your luxury home as quickly and efficiently as possible. After the cleaning company leaves, you can do regular spot cleanings to maintain the cleanliness until your home sells! With a deep cleaning, you can also expect a high
return on investment (ROI) of up to 3,650%
!
3. Define rooms
Since home buyers like to be able to imagine their future lives in your home, it is necessary to give every room and space a specific function. From the clearly defined areas such as the kitchen and living room to less defined areas in alcoves and recesses, you need to be able to show what that space could be used for. When a home buyer sees an empty and blank space, they might pause and even scratch their heads at a space that looks like it serves no purpose other than making the home appear more spacious. By assigning a function to every space and room, you can show buyers how well the home uses the available space. For instance, in this
single-family luxury home in Studio City, CA
, there is a recessed area in one of the bedrooms. Instead of leaving it empty and devoid of furnishings, it has been transformed into a study area by placing a desk with a lamp. Having a clearly defined purpose in each room and space can help to create a staged home that is well-designed and executed so those home buyers will make an offer fast!
4. Choose colors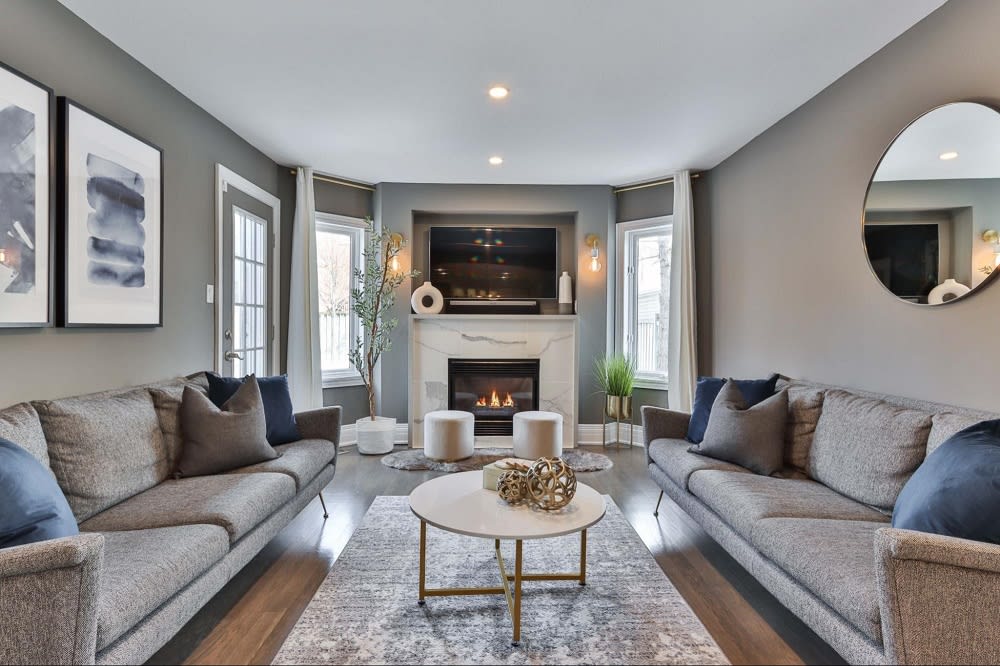 After living in your home for some time, the walls might appear drab and dull. One easy way to freshen up your home is by painting. Whether you choose a different color palette or use the same colors, painting the walls and ceiling can help make your home shine. In addition, painting the interior can bring an ROI of
up to 107%
. If you are considering changing your color palette, consider using neutral colors such as white, beige, and light gray. These colors make the home appear more prominent, lighter, and brighter, which is what you need to aim for in a professionally staged home. For instance, this
single-family home in Studio City, CA
, has captivating white walls that help to create a space that appears ample and airy. In addition, the white walls make the furniture, decor items, and even the bright orange front door stand out. Carefully choose the colors to help accentuate your home's best features!
5. Don't forget curb appeal
When staging Studio City, CA, homes for sale, it is easy to focus on the interior without putting much thought into the exterior. However, you need to consider the exterior of your home. Considering that your house's facade will be the first thing that home buyers will see, whether they are driving by or looking at your home on online listings, you need to make that first impression count. Consider mowing the lawn, power washing the walkways and driveways, and washing the windows. Consider also painting the window shutters, front door, and mailbox. Be sure the house numbers are visible so buyers can identify your home. For example, this
charming single-family home in Studio City, CA
, has a white-picket fence around a well-manicured lawn, visible house numbers, and newly painted window shutters. Having curb appeal can create an excellent first impression so that home buyers in the Los Angeles area will want to make an offer!
6. Work with a professional stager

In staging your home well, there is a lot to do. It can help to call in an expert who has experience staging luxury homes for sale in Studio City, CA, and the Los Angeles area. A professional stager who knows the ins and outs of staging can guide you on everything from rearranging furniture to choosing the right paint colors. A professional stager can help create a space that allows buyers to emotionally connect so that they will want to make an offer immediately. In addition, a professionally staged home can increase its perceived value, which means that you could sell for well above the listed price. A Los Angeles real estate agent can make a referral to a professional stager who can help you create a masterpiece of a luxury home in Studio City, CA, and beyond!
Interested in selling a home in the Los Angeles area? Then, you might want to consult award-winning real estate agent
Anita Rich
and her team of experts at The Rich Group. With more than thirty years of experience buying and selling luxury real estate, The Rich Group can provide expert guidance on everything from innovative marketing strategies to negotiation tactics. The Rich Group can sell your home quickly and for top dollar!